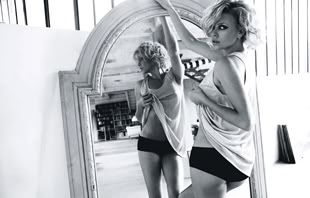 Tom Hardy

&

Angelina Jolie

have both

been

linked

with Rupert Sander's Snow White and the Huntsman which is just one of three competing Snow White "re-imaginings" in development right now. Now Charlize Theron reportedly is set to join the fold.
This dark re-telling is being scripted by
Evan Daugherty
.
According to
The Playlist
,
Tom Hardy
has already been negotiating to take the role of the Huntsman. In
Daugherty's
version of the story, this is a character charged by the evil queen to find and kill
Snow White
but, instead, he decides to go on the run with her and aid her escape. Hardy will apparently jump to the project after completing the currently-shooting
This Means War
and before adopting his mystery role in
Christopher Nolan's
The Dark Knight Rises
.
We're also told that Angelina Jolie is to play Ravenna, the evil queen and villain of the piece… our source was a little uncertain on whether it'll become a reality.
And it seems they were right to be uncertain.

JustJared

.com

have now made a claim that the role has gone to Charlize Theron. Simply:
Sources tell JustJared that the 35-year-old actress will play the evil queen in the new adaptation of the classic tale, Snow White.
Theron is currently shooting Jason Reitman's Young Adult, and it seems she'd roll right over into this one. If Theron gets involved joins she will be teaming up with Hardy twice after her casting in

Mad Max:Fury Road

as an

amputee

.